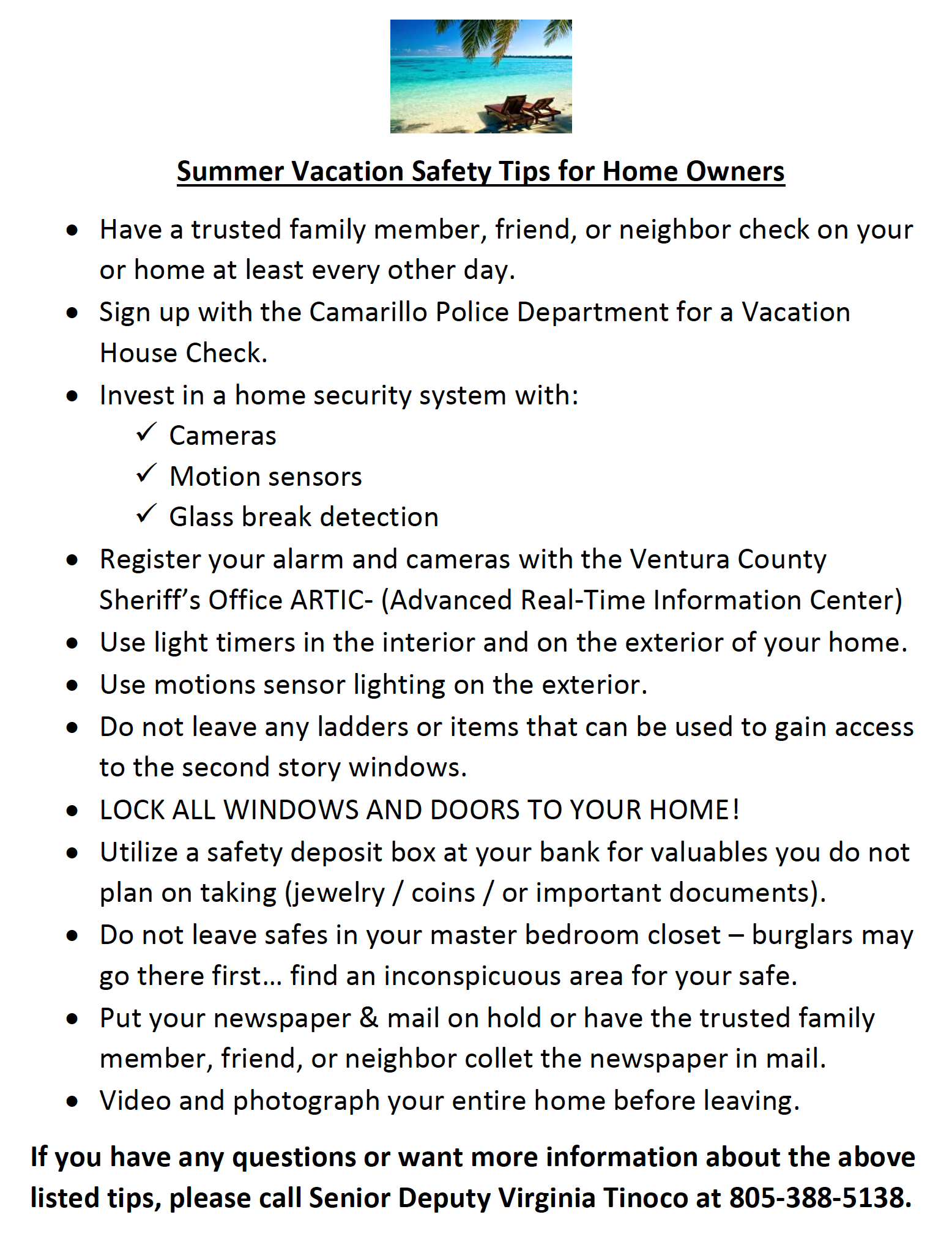 Camarillo Police Alerts
Senior Deputy Virginia Tinoco
Camarillo Police Department
Community Resource Unit
Crime Prevention
(805) 388-5130
Virginia.Tinoco@ventura.org 
Reverse 911 Callback
To be put on the police departments contact list for reverse 911 callback, call 654-9511 or email your request go camcity.watch@vta.or
Clubhouse Reserved:
July 20 & 21, 2019
****Catalytic Converter Thefts****
HONDA & TOYOTA OWNERS BEWARE!!
We have seen an increase in catalytic converter thefts.
Thieves are targeting 2000-2006 year car models.
We are aware of at least 10 in the Camarillo area alone, but this is a problem countywide.
Please be aware and report any suspicious activity immediately to the police.
Camarillo Police non-emergency line:
805-654-9511
Emergency line: 911
There have been a few questions regarding vehicle thefts vs vehicle burglary, and stolen vehicles.
Stolen Vehicle= The actual vehicle has been stolen.
Vehicle theft= Stolen item(s) from an unlocked vehicle.
Vehicle Burglary= Stolen items(s) from a locked vehicle, entry by force.
Residential Burglary= Someone entered a locked or unlocked residence and took property without permission.
Robbery= Taking property from someone (victim) by force or fear.
Theft of person= The taking of property from someone without the element of force or fear.
PLEASE DO NOT BECOME A VICTIM…. LOCK YOUR VEHICLES, WINDOWS, AND HOMES.
DO NOT LEAVE ANY ITEMS IN YOUR VEHICLE IN PLAIN VIEW.   REPORT ANY SUSPICIOUS ACTIVITY.
Virginia Tinoco
Ventura County Sheriff's Office
Camarillo Police Department
Senior Deputy, Community Resource Unit
---
Greetings Business Members and Residents,

I would like to thank you all for working with the Camarillo Police Department in making Camarillo a great place to live and do business.  Together, we can improve the quality of life for everyone in our community. 
 
Attached you will find the Ventura County Sheriff's Office Video Surveillance Camera Registration information and registration form.  This program is a valuable tool in preventing crime and apprehending criminals. 
 
If your business is equipped with a video surveillance alarm system, this is a great opportunity to partner with the Ventura County Sheriff's Office to assist in our crime fighting efforts. 
 
·         All information provided to the Sheriff's Office will be kept confidential
·         Residential /Business/ Commercial buildings are eligible to register

You can contact our ARTIC Supervisor, Renee Cortez 805-654-7620
 
 
Senior Deputy Virginia Tinoco
Camarillo Police Department
Crime Prevention
805-388-5130